Buying a House in Pembroke Pines, FL with a HomeReady or Home Possible Loan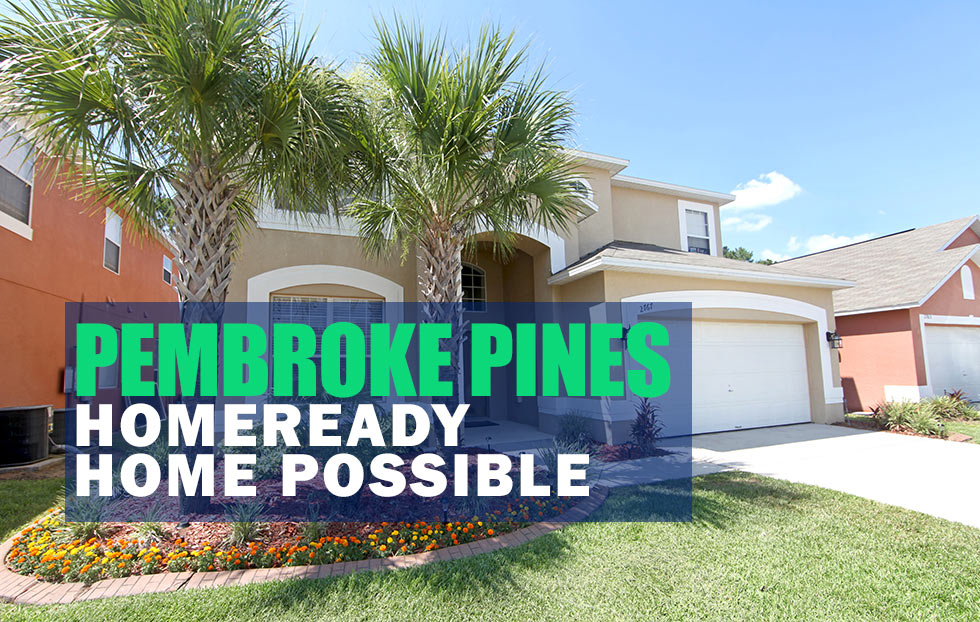 Low-to-moderate income buyers in Pembroke Pines, FL, had very limited options when it comes to low-down-payment loans for a single-unit residence. FHA loan was drawing the lion's share of these buyers as it only asks for a 3.5 percent down payment. However, now there are two more low-down-payment mortgages available for the people of Pembroke Pines. These include HomeReady Loan by Fannie Mae and Home Possible Loan by Freddie Mac. Both of these are conventional loans, and they might trump the offering from the FHA. Why?
Reasons Why HomeReady and Home Possible Could be a Better Option than FHA
Low Down Payment
For starters, both Home Ready and Home Possible Loan come with a low down payment requirement – 3.0 percent of the property's sales price. When you compare it with FHA's 3.5 requirements, it might not sound too good. However, if you are a low-income borrower saving to buy a home, that additional 0.5 percent means another $10,000 on a $200,000 purchase, which means a lot.
Cancellable Mortgage Insurance
Mortgage insurance policy comes with the FHA loan, HomeReady Loan, and Home Possible Loan. FHA loan has two such policies – an upfront premium that is rolled into the loan amount and an annual premium that borrowers must pay in monthly installments. With the Home Ready and Home Possible Loan programs, there is just one mortgage insurance policy. Moreover, mortgage insurance with these loans is cancellable under certain circumstances. Private mortgage insurance for Pembroke Pines HomeReady and Home Possible Loan programs are also less expensive compared to that of an FHA loan.
Flexible Approval Process
HomeReady and Home Possible Loan programs provide a great benefit to borrowers who plan on sharing the costs of the loan with family members. Fannie Mae and Freddie Mac allow non-occupant co-borrowers to add their support to the process. This means that parents and other relatives can increase your chances of securing approval for HomeReady or Home Possible Loan, even if they aren't going to live in the purchased property.
HomeReady and Home Possible Loan Requirements
Both HomeReady and Home Possible Loan programs are designed to help low-to-moderate income individuals break into homeownership. The income limits for both the loans are the same – the qualifying income of the borrower should not exceed 80 percent of the area median income (AMI) for the property's location.
HomeReady and Home Possible Loans are also a little forgiving towards credit. The minimum FICO score for both programs is 620, but a better credit score – 680 or more – may make the borrower eligible for better rates. Completion of a Homebuyer Education Course is mandatory for loan qualification.
If you are thinking of buying a home in Pembroke Pines, FL, and searching for a low down payment loan option, consider the HomeReady or Home Possible Loan. If you have any questions about these programs or need to apply for them, talk to Fourpath Mortgage at 954-507-7553.